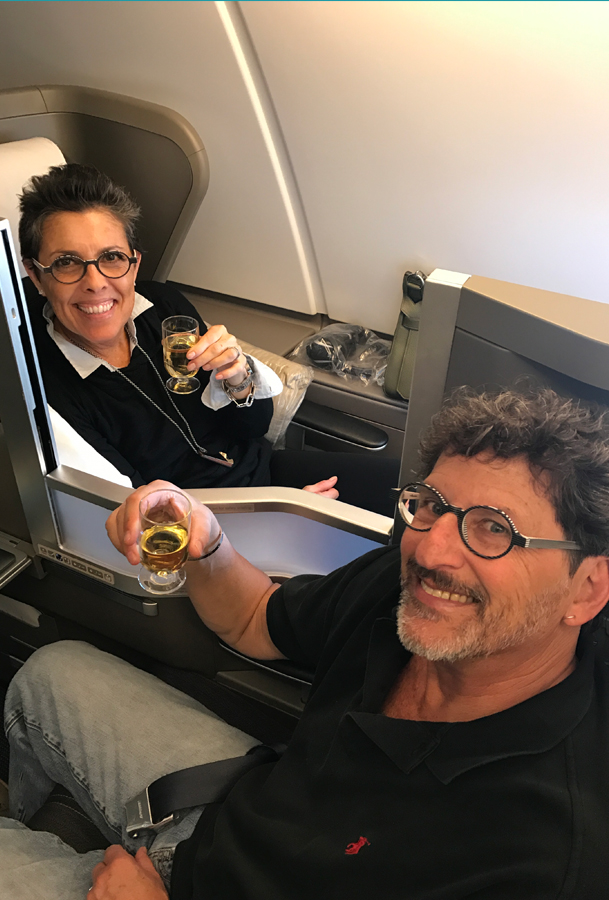 The Last Journey
The Last Journey
Of all the journeys we planned for our bright future, crisscrossing the globe to foreign and familiar lands, we never thought that this Malevolent protein would steal our passports, our hope and dreams.
My husband Ken and I have been traveling the globe for some 20 years to far-flung places like India, for the Kumba Mela 2019 Vietnam, Japan and most recently we were quarantined on the Amazon in Peru when the pandemic shut the country down.
For 15 months hence once home Ken was unwell. He was diagnosed with Waldenström's syndrome a bone marrow non-Hodgkin's lymphoma – very indolent yet all of his emerging symptoms were all over his body and nobody knew what was wrong plagued his once athletic form.
We tried every medical test known to man, every specialist, we were open minded we were ready willing and able to take any tests however invasive and painful to find a diagnosis – any diagnosis. The symptoms ranged from excruciating stomach pain to trouble breathing, but there was nothing structurally wrong with his lungs. Nobody had answers and handed us off to the next specialist. Test after test revealed that he was the healthiest specimen yet the sickest guy at the same time.
Ken would push himself to play tennis to be normal he wouldn't listen to his body and then a couple months ago the weight started melting off and he became weaker more frail and more depleted. The tennis stopped. Normalcy ceased.
The Walderstrom specialist at the Mayo Clinic in Phoenix listened to our very sad story suggested we go to the Rochester Mayo clinic because there was a doctor there, a hematologist (Dr. D) who took on oddball cases and that's what we did. Odd ball was now Ken's new diagnosis.
After waiting 15 months for answers we had a diagnosis in 24 hours. AL Amyloidosis.
Destination Minnesota- I poured him into a wheelchair poured him into another wheelchair and got him on two flights from Los Angeles to Rochester.
After waiting 15 months for answers we had a diagnosis in 24 hours. AL Amyloidosis.
The fat aspirate showed that it was in his gut, some questions about it being in his kidneys, but the most devastating part the central focus of the story is my husband's heart.
My husband's heart is the biggest heart I know so filled with love and kindness but I didn't realize that there was an actual physical reasons why it was so big. The Amyloid had rendered his heart 50 times bigger than a normal heart on both left and right sides. His loving heart was stiff, very stiff. The cough that he had been suffering? It was due to late stage congestive heart failure.
The Mayo Rochester experience was the most wonderful of horrific situations. The doctors, the nurses seemingly all sit around the "poker table" in the evening discussing my husband's case. They actually come together to brainstorm- what a novel idea!
His first cycle of chemo was administered as an inpatient in the hospital. It went mostly well and they sent us home back to the Hilton,( I must think the Hilton Rochester for everything they did for us) and then back home to California to commence this new journey, this last journey.
As I write this I don't know how long we have to love, laugh and cry in each others presence. Our lives, the joy we share privately with knowing glances now have new meaning and new urgency. I look around the life we have created and my heart carries the weight of our loss, and the loss of so many others whose joy has been consumed by a malevolent protein.
The Last Journey – Alison – UNITED STATES